Student dormitory of Liaoning University of Technology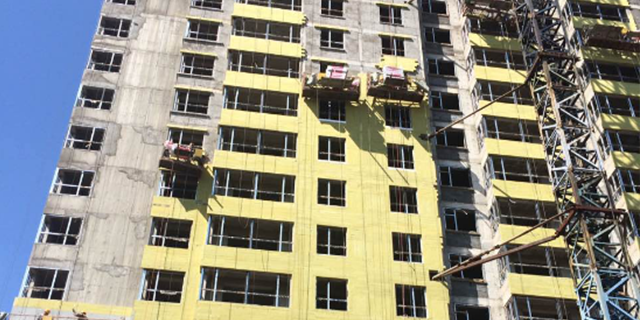 [Project name] Student dormitory of Liaoning University of Technology
[Project location] Jinzhou, Liaoning
[Construction time] Oct. 2013
[Specifications of insulation material] 1200*150*80-100K
South I and II student dormitories of Liaoning University of Technology are designed by Architectural Design and Research Institute of Liaoning University of Technology, having the building height of 60.12m and building area of about 35000m2.
According to the provisions of Temporary Provisions on Fire Protection of External Insulation System and External Wall Decoration of Civil Buildings, the combustion performance of insulation material of building of which the residential building height is not less than 60 and is less than 100mm shall not be lower than Class B2, and when the Class B2 insulation material is adopted, the horizontal fire-barrier belt shall be arranged on each floor. Bosheng Rock Wool has advantages, such low thermal conductivity, good air permeability and Class A of combustion performance, and thus, becomes the project partner successfully.
In this project, Bosheng 80MM and 100K external wall fire-proof insulation isolation belt is used as the inorganic material. The incombustibility of Bosheng Rock Wool plays a crucial role for the overall fireproof performance of building. In the actual construction process, the high-quality Bosheng Rock Wool has no pollution to the surrounding environment, and also has no relevant complaint of workers on quality of rock wool. After the project acceptance, Bosheng Rock Wool is highly recognized and praised by the owner.
[공정명칭]료녕공업대학 학생 기숙사
[공저지점]료녕 금주
[시공시간]2013년10월
[보온재료규격] 1200*150*80-100K
료녕공업대학 남1,남2 학생 기숙사는 료녕공업대학 건출설계원에서
설계하였으며 건축높이는 60.12미터이고 건축면적은 약 35000㎡입니다.
<<민용건축외보온시스템 및 외벽장식방화 임시 시행 규정>>의 규정에 따르면 주택건
축높이가 60m보다 크거나 같고 100m보다 작은 건축물에 대해서 보온재료의 연소성
능이 B2급보다 낮지 말아야 하며 b2급 보온재료를 채용했을 시 매층에는 수평방화
격리대를 설치해야 합니다. 그러므로 설계측과 업주는 방화격리대의 종합성능을 아주
중요하게 여깁니다. 박성락울은 업계내 유명한 브랜드로서 도열계수가 낮고 통풍성능
이 좋으며 연소성능이 A급 등 장점이 있어 협력 파트너로 선발되였습니다.
프로젝트는 박성 800mm두계, 100K 외벽방화보온 격리대를 사용했고 무기재료로 박성락울은 불연성을 갖추었으며 건축물의 전반적인 방화성능에 중요한 작용을 일으켰습니다. 실제 시공과정에서 고품질의 박성락울은 주위환경에 오염을 주지 않앟고 공인들이 락울질량에 대한 불만도 없었습니다. 프로젝트 험수를 마친 후 박성락울은 업주측의 고도의 인정과 찬양을 받았습니다.